Resisting temptation
Many parents understand the temptation for young adults to cash out their permanent life insurance. Because of this, some wait to turn over ownership until their children are out of college and earning a full-time income. Even then, parents can struggle to explain why not to cash out the life insurance to pay for a new car or repay student loans.

Here are a few talking points to help start the conversation with your son or daughter.
"Your life insurance certificate has value beyond its cash value. As parents, we purchased your coverage when rates were lowest – both in case something happened while you were young and to lay the cornerstone for your financial future. Even if you receive life insurance through your job, it's important to always have some protection that's both permanent and portable if you change jobs."

"The coverage can grow with you through all stages of life. Many life insurance certificates include a guaranteed purchase option.* This allows you to buy additional amounts of insurance at specified ages and as you take on new responsibilities (such as starting your own family). Best of all, there's no health exam. You're young and healthy now, but you never know when you could become ill and unable to qualify for insurance. The permanent life insurance certificate we bought for you ensures you'll always have protection."

"You can use your life insurance certificate to bail you out without cashing it out. You can borrow from the cash value as a sort of emergency fund without losing the death benefit protection. Loans must be repaid ** with interest, but the interest is much lower than what most credit cards charge."
Need more help?
Ask your local Modern Woodmen of America representative to talk with your whole family about the importance of life insurance at any age. Help smooth the transition as your child reaches adulthood and starts facing his or her own financial needs.
* Available at additional cost
** Unpaid loans can reduce the death benefit and may result in a taxable situation
Your financial representative
Meet a Modern Woodmen representative in your community and begin to explore how shared values can work for you.
---
Find a rep near you
Need help finding a representative?
If you're unable to find a Modern Woodmen representative in your community, we'd like to help.
Contact the home office
Additional products and services
Talk to a representative to see what's best for you.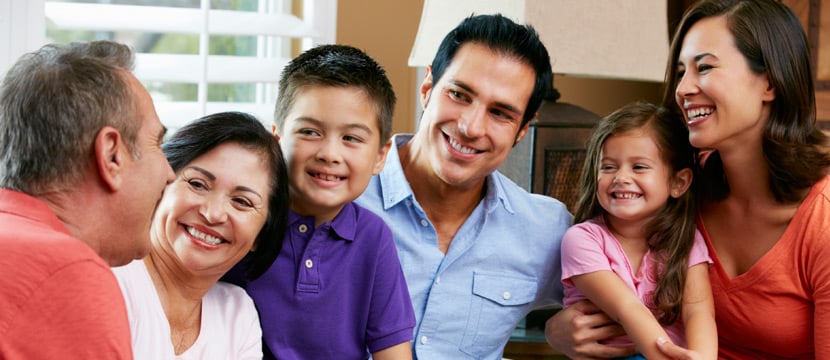 Product
Whole life insurance
Whole life insurance helps protect your loved ones, providing tax-free money when you die, not just if you die during a specified time period. You can get peace of mind, knowing that your family is protected, and you can take advantage of cash value and other living benefits to help you plan ahead – no matter what life brings.