Healthy brains are important for all of us, yet the topic of mental health is often misunderstood. Modern Woodmen member chapters and youth service clubs across the country are making brain health a top priority in 2022.
Modern Woodmen's nationwide Brain Health: Keep It Top of Mind initiative encourages members to participate in service, educational and fundraising activities that help raise awareness of brain and mental health in their communities.
Visit this page throughout the year for campaign news and updates.
February highlights
In February, members donated kindness kits (self-care packages) to local organizations for those at risk and to workers in the mental health profession.
Hartland, Wisconsin: Members packed kindness kits with large-print word finds, adult coloring books, small bottles of lotion, crayons and pencils. They left the kits in the community room of a senior assisted living facility for residents to find and enjoy.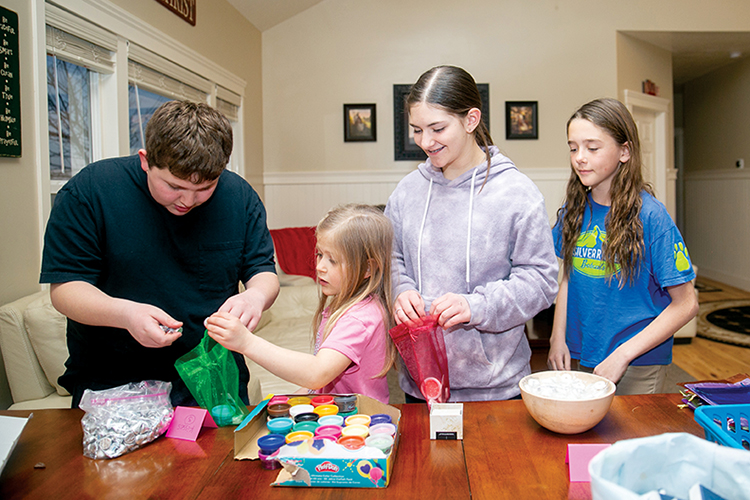 Brigham City, Utah (above): These members delivered 100 kindness kits to counselors in four nearby schools to share with kids who need them. The Modern Woodmen youth service club leader, Carol, talked to local school counselors, parents and others to determine the best items to add to the kindness kits – objects known to help kids with anxiety relax and calm down. The kits also included positive affirmation cards, tips on box-breathing and a snack.
La Porte, Indiana: Members coordinated with a local 4-H group to pack kindness kits filled with fuzzy socks, tea, snacks and positive notes. They donated the kits to a local hospital, giving a boost of happiness to health care workers feeling drained and burned out.
Brentwood, California: Members assembled kindness kits for residents of a local nursing home. Due in part to COVID restrictions, many of the residents get few visitors. The kits included handwritten notes and chocolate bars – a little something to let the residents know someone outside their facility was thinking of them.
Mitchell, South Dakota: Members presented their kindness kits to caseworkers at a local mental health facility. The kids painted rocks with motivational messages and added them to the kits, along with other care items.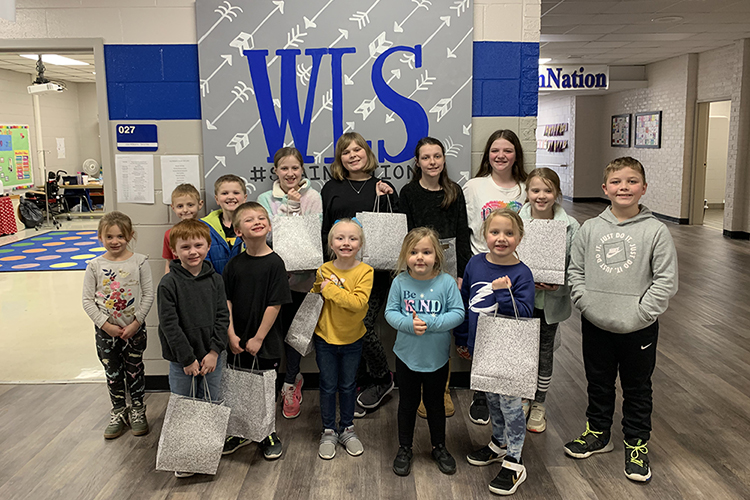 Chatsworth, Georgia (above): These members filled bags with personal stress-relief items for the counselors, social workers and psychologist at the local school district. The youth service club leader, Carrie, used the project as a way to help young members learn about brain health and related careers. And the kids brainstormed ways they could help take care of their own mental health.
May activities
In May, members learned ways to help maintain positive brain health by participating in local educational events.
Davenport, Iowa (above): Youth service club members learned how equine therapy can help reduce stress, anxiety and PTSD. The kids toured a horse farm, had a riding lesson and enjoyed time together outside.
Dexter, Missouri: Members listened to a speaker from a local counseling center, who shared resources for those with mental health concerns.
Ringgold, Georgia: Members visited a nutritional tea shop that just opened in their town. Staff educated members about various drinks, the nutrients in each, and how they benefit a healthy brain and body.
August activities
In August, members will help raise funds for local organizations and individuals that support brain and mental health.
October activities
In October, members will honor individuals, community organizations and volunteer groups that encourage brain health and/or support those with mental health concerns.
Your financial representative
Meet a Modern Woodmen representative in your community and begin to explore how shared values can work for you.
---
Find a rep near you
Need help finding a representative?
If you're unable to find a Modern Woodmen representative in your community, we'd like to help.
Contact the home office